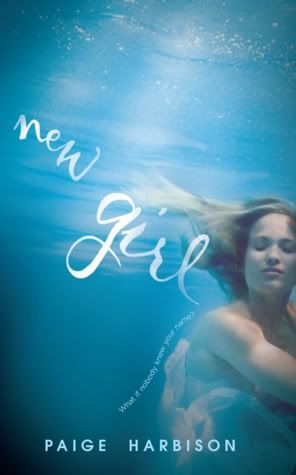 Title:
New Girl
Author:
Paige Harbison
Source:
HarlequinTEEN via Netgalley
Due out: 31st January 2012
Pre-Order:
Amazon
|
Book Depository
Sapphired Dragon Rating:
****
Synopsis (via Goodreads):
They call me 'New Girl'...

Ever since I arrived at exclusive, prestigious Manderly Academy, that's who I am. New girl. Unknown. But not unnoticed—because of her.

Becca Normandy—that's the name on everyone's lips. The girl whose picture I see everywhere. The girl I can't compare to. I mean, her going missing is the only reason a spot opened up for me at the academy. And everyone stares at me like it's my fault.

Except for Max Holloway—the boy whose name shouldn't be spoken. At least, not by me. Everyone thinks of him as Becca's boyfriend but she's gone, and here I am, replacing her. I wish it were that easy. Sometimes, when I think of Max, I can imagine how Becca's life was so much better than mine could ever be.

And maybe she's still out there, waiting to take it back.
Review:
You know there is something special about a book when you start it on the train home at approximately 6 pm at night and don't manage to put it down until you are finished in the wee hours of the following morning. This is one of those books.
This story is not about one new girl but two. First there is Becca, who wants to be the 'IT" girl, that girl that all the boys want and all the girls want to be and the second, the girl who comes to Manderley the following year after Becca mysteriously goes missing and has to deal with trying to fit when all the other students see her as the girl trying to take Becca's place.
Hardison expertly weaves the tales of the two girls together into a story that keeps you hanging on each word until the end trying to piece together the puzzle of what happened.
This story surprised me in that I didn't know too much about it when i started reading it so wasn't not expecting to get as caught up in the tale as I did.
I definitely recommend this book and give it a Sapphired Dragon rating of 4 stars! :)

Sapphired Dragon xx