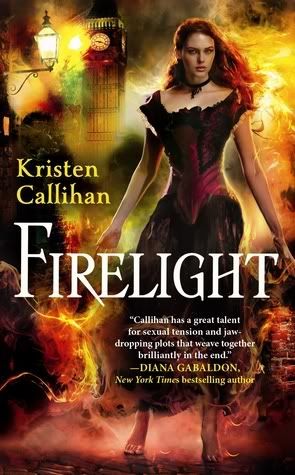 Title:
Firelight
Author:
Kristen Callihan
Source:
Grand Central Publishing via Netgalley
Date Released:
1st February 2012
Purchase:
Amazon
|
Book Depository
Sapphired Dragon Rating:
****
Synopsis ( via Goodreads):
London, 1881
Once the flames are ignited . . .
Miranda Ellis is a woman tormented. Plagued since birth by a strange and powerful gift, she has spent her entire life struggling to control her exceptional abilities. Yet one innocent but irreversible mistake has left her family's fortune decimated and forced her to wed London's most nefarious nobleman.

They will burn for eternity . . .
Lord Benjamin Archer is no ordinary man. Doomed to hide his disfigured face behind masks, Archer knows it's selfish to take Miranda as his bride. Yet he can't help being drawn to the flame-haired beauty whose touch sparks a passion he hasn't felt in a lifetime. When Archer is accused of a series of gruesome murders, he gives in to the beastly nature he has fought so hard to hide from the world. But the curse that haunts him cannot be denied. Now, to save his soul, Miranda will enter a world of dark magic and darker intrigue. For only she can see the man hiding behind the mask.(less)

Review:
Like the Firelight of this book's title, this book started at a slow burn and slowly built up intensity and light drawing you into the story bit by bit the till the light was shining full force and you were hooked on the story and anxious to find out how irt would conclude.
Callihan lays the setting well, painting a convincing portrait of England in the late 19th Century and from the beginning introduces her main characters of Miranda and Archer well so you are in their corner from the beginning of the book.
This is not however a straight forward tale. Callihan tells the story from a number of different viewpoints that it adds to the mystery rather than takes away from it until you find yourself wondering along with Miranda what lies behind Lord Archer's mask and what is the story behind it.
Between the mystery that is Archer's past and the mystery unfolding around the two leading characters including gruesome murders that some how tie into Archer's mystery past, Callihan creates a tale that will keep you on the hook till the final page.
A tale definitely worthy of 4 stars.
Sapphires Dragon xx