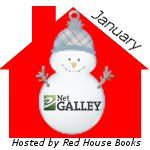 So in July 2011, my first attempt at NetGalleyMonth, I found out I was pregnant, got morning sickness and was unable to read anything on my ipad without feeling nauseous. Needless to say July was a bust. In October, I was so snowed under at work, I didn't even have time to declare myself let alone attempt a netgalley month so again... BUST!
HOWEVER
This time round, armed with my new shiny kindle I received for Christmas, I do declare January 2012 to be Netgalley Month and just as third time is the charm, this time I will succeed!! :)
Emily from
Red House Books
is hosting January's Netgalley month challenge which involves reading as many netgalley books as possible in the month of January 2012.
So why do I think I will succeed this time when i so epically failed the last two times? Here is why:
Time :

This month I have ten days of holidays with not much I have to do but read. Plus I am 30 weeks pregnant so this is an awesome excuse to take it easy :)

Reading Device:

I received a shiny new Kindle 3 for Christmas which already I am making use of, complete with a cover with a readng light so I can read at night in bed.
A Netgalley TBR list already half a mile long so once again the perfect excuse to get through it (like i need an excuse :P). These titles include:
Under The Moon by Natalie J. Damschroder

New Girl by Paige Harbison

Slid

e by Jill Hathaway

Halflings by Heather Burch
The Juliet Spell by Douglas Rees
The Iron Knight by Julie Kagawa
and others which I will add as I go through them :)
So there you have it, three big reasons why January will be an awesome Netgalley Month for me :)
For more information on January is Netgalley Month or to declare yourself check out the official post at
Red House Books
Well wish me luck because here I go...